SEVILLA (SPAIN) OCTOBER 18-20 2023
FACULTAD DE BELLAS ARTES
PRESENTIAL/ONLINE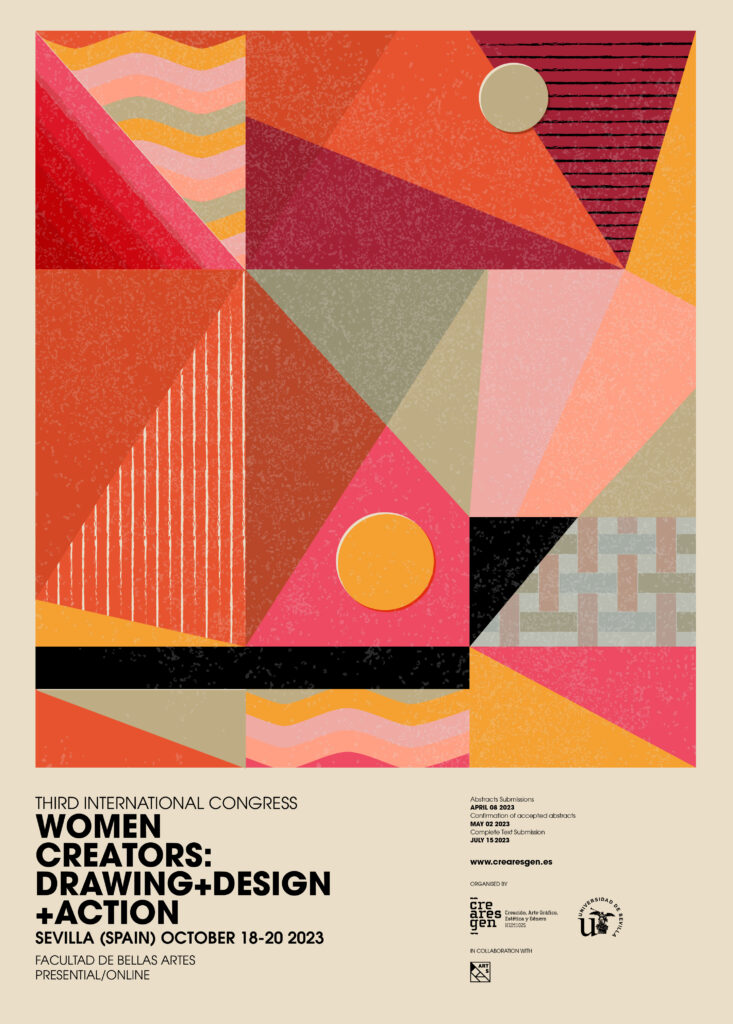 CALL FOR PAPERS/
The aim of this Third International Congress Women Creators: Drawing, Design and Action, is to make visible in the academic field the scientific and artistic research focused on women artist and designers whose essence is linked to drawing or those aspects that are close to it: namely the graphic reflection, the plastic formalization, the graphic art production or the aesthetics.
Organized by the Research Group HUM-1025 Creación, Arte Gráfico, Estética y Género (CREARESGEN) of the Universidad de Sevilla, following the success of the I Meeting Women Creators: Drawing, stroke and discourse (2020) and the I and II International Congresses Women Creators: Drawing, Design and Action (2021 and 2022). The academic event is aimed at research profiles or artists in the field of Fine Arts, Art History, Design, Philosophy, Gender Studies or Aesthetics.
Extended abstract of 4000 words using the template provided, which will be submitted for blind peer review. These abstracts, once approved and presented at the meeting, will be published with isbn.
Accepted languages: Spanish, English, Italian.
AREAS AND LINES OF RESEARCH/
• Drawing and graphic creation by woman artists and/or designers.
• Graphic work, impact and production of women designers.
• Feminist aesthetic thought as it relates to drawing and design.
• Performance or installation artists whose work uses drawing or graphic language as the basis for their actions.
EXTENDED PUBLICATION/
After the meeting, a publication of the accepted abstracts will be published.
In addition, a book of chapters will be published afterwards, to which the research team HUM-1025 CREARESGEN, Creación, Arte Gráfico, Estética y Género, will invite a selection of participants of the international congress. Publications of results through peer review system. Both editions will be published with isbn.
DATES/
Abstracts Submissions APRIL 08 2023
Confirmation of accepted abstracts MAY 02 2023
Complete Text Submission JULY 15 2023
Online meeting OCTOBER 18-20 2023
SENDING PROPOSALS/
Sending proposals and information/
jornadasmujerescreadoras@gmail.com
REGISTRATION/
(Until full apacity is reached).
COMMUNICATIONS [1-30 September] 160 €